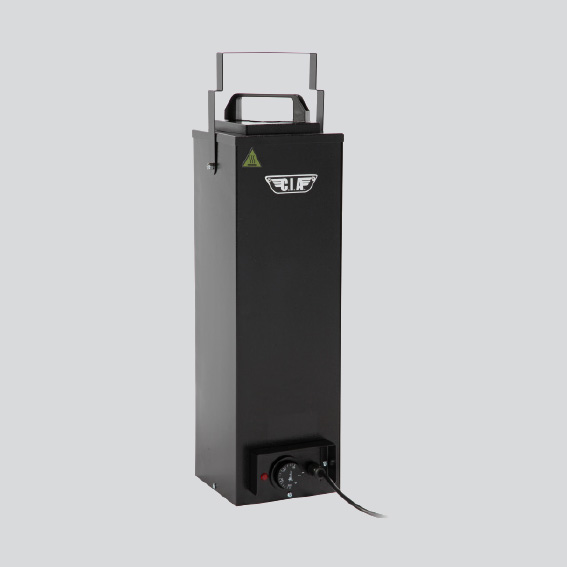 P15T – Insulated Portable Rod Oven/Quiver with thermometer
It is one of the Insulated portable Rod Oven/Quiver that created our success, has a capacity of two packs of rods. The internal chamber is in aluminized sheet metal, in the upper part there is an electrode basket with handle. The P15T oven has a thermometer positioned underneath the handle.
An adjustable thermostat is located at the bottom front, on its left there is a light that signals when the resistances are inserted. To the right of the thermostat knob is the power cable. Between the inner and the outer bodies, the air gap creates thermal insulation. The external structure is in sheet metal painted with epoxy powder to resist temperature, humidity, corrosion and saline atmosphere. The oven has a stainless steel armored coil heating element positioned vertically on the rear of the oven to ensure a homogeneous temperature inside.
In case the thermometer is not necessary see P15. If it is needed a smaller capacity see P8, and smaller capacity with thermometer P8T
P15T SPECIFICATIONS
Capacity
11 kg
Temperature
adjustable up to 190°C
Thermostat
adjustable temperature
Thermometre
optional
Voltage
24VAC/48-85VDC/110VAC/220VAC
Output
0,3kW
Internal dims.(WxDxH)
105x105x460mm
External dims. (WxDxH)
206x243x630mm
Weight
7,5 kg